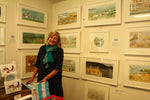 Book Signing and Studio Day
To Celebrate CBCA 2016 book week, we are holding 2 special events at the Alison Lester Gallery in Fish Creek.
There will be a special book signing on Sunday August 21 from 1-4pm, where you can purchase copies of all your favourite Alison Lester books, including the shortlisted 'my dog bigsy', and have them signed.
On Monday August 22nd, Alison will set up her studio in the Gallery and work on her new book 'hello little babies'. you can watch Alison work, ask her questions and see how she creates her beautiful illustrations! This will take place between 1-4pm.
Alison Lester Gallery, 1 Falls Rd, Fish Creek. (03) 5683 2352.
alisonlester.com