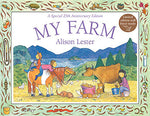 Where has the time gone? The Australian bestseller, My Farm is 25 years old!
To celebrate, Allen & Unwin has produced a beautiful Anniversary edition in hardback, which contains a bonus wall frieze.
Order your copy online or drop into the Fish Creek Gallery and pick one up and you can drive through the countryside that inspired the story and illustrations.