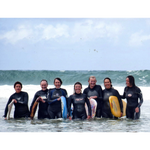 Ambassador for the National Year of Reading
In 2012 I was honoured to be an ambassador for The National Year of Reading which included a national tour of the Are We There Yet? exhibition.
The year wound up with a celebration at the Inverloch library where I was presented with my own surfboard, decorated by school children and with its own library bar code.
Here I am having a celebratory surf (I stood up about 2 seconds) with staff from the West Gippsland Library, including John Murrell who has very sadly since passed away, and some of the Swell Mummas surfing group.