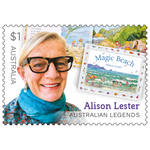 Australian Legends of Children's Literature
Every year since 1997, the Australia Post Australian Legends Award has recognised outstanding individuals for their part in shaping the social and cultural life of Australia.
In 2019, recipients of the award were celebrated authors for young people, including Alison. The other winners were Mem Fox AM, Morris Gleitzman, Leigh Hobbs and Shaun Tan.
Their enthusiasm for children's literacy and the art of storytelling brings pleasure and delight to young audiences, enriching the imaginative and lived worlds of all who engage with their books, but importantly, these exceptional storytellers play a significant role in the intellectual, emotional and social development of their readers and listeners, contributing to generations of grounded and resilient young people.
Their stories are compelling, entertaining, humorous and moving, and convey values, life skills, attitudes and strategies for facing the opportunities and the challenges that emerge through life.
Learn more about the Australian Legends of Children's Literature.
The stamps are designed by Jo Muré of the Australia Post Design Studio, each stamp features a portrait of the author together with a cover and inside spread from one of their best-loved publications.
Source of information: Australia Post Collectables website