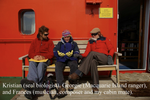 Hi everyone, and welcome to all the new people who have emailed me. It's a grey day today with calm seas and we are still chugging across this huge ocean, with about nine days to go until we reach the ice. This morning I wandered around the ship taking photographs of all the signs.
There are signs everywhere, and many of them have pictures of people running, up or down, to reach exits.
The deputy voyage leader found a room for me to work in this morning, so soon I am going to go down there and do some drawing and painting.